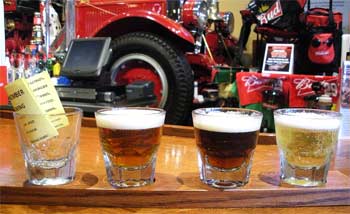 Craft Beer Sampling Paddles
What could be more fun than starting your weekend with tastings of revolving craft beers and potential new BBQ menu items? Company 7 Pitbossses enjoy a quality brew almost as much as they enjoy excellent BBQ. Working with our suppliers, each Friday & Saturday all day we will offer a tasting tray of high quality, Craft Beer products for only $4.49.
We will have brief backgrounds on each brew & will solicit your comments. You may also get glasses of any of the Craft Beers you prefer. If we find a winner, it may become a regular draft offering.
This Friday, January 19th & Saturday, January 20th all day we will feature:
Alpine Brewing Nelson IPA
Avery Raja Double IPA
Founders Backwoods Bastard Ale
Beer paddles will be available until we close or run out! The full Pub line of beers & drinks will also be available. Remember that the Craft Beers will change every Friday & Saturday.
Craft Beers Rundown for this

Friday, January 19th & Saturday, January 20th


Alpine Brewing Nelson IPA - ABV 7% IBU 40. Named after Nelson Sauvin, an outstanding hop varietal from New Zealand. The hop is introduced through the brewing and dry-hopping of this complex and well-balanced IPA. A hazy straw hued ale, Nelson is topped by bright white beer foam and offers a tropical hop aroma. The pine and fruity hop notes linger, but are well-balanced by the smooth, malty addition of European rye malts. Enjoy this stunning and multifaceted, yet mellow IPA.


Avery Raja Double IPA - ABV 8% IBU 80. Brazenly bitter. Dashingly dry-hopped. Raja is an audacious addition to our lengthy lineage of intrepid IPAs. Hops for all! All for hops!


Founders Backwoods Bastard - 10 oz pours Only - ABV 11.6 % IBU 50. Expect lovely, warm smells of single malt scotch, oaky bourbon barrels, smoke, sweet caramel and roasted malts, a bit of earthy spice and a scintilla of dark fruit. It's a kick-back sipper made to excite the palate.