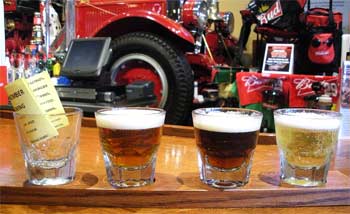 Craft Beer Sampling Paddles
What could be more fun than starting your weekend with tastings of revolving craft beers and potential new BBQ menu items? Company 7 Pitbossses enjoy a quality brew almost as much as they enjoy excellent BBQ. Working with our suppliers, each Friday & Saturday all day we will offer a tasting tray of high quality, Craft Beer products for only $4.49.
We will have brief backgrounds on each brew & will solicit your comments. You may also get glasses of any of the Craft Beers you prefer. If we find a winner, it may become a regular draft offering.
This Friday, August 25th & Saturday August 26th all day we will feature:
Toxic Blond Ale
Toxic Coconut Hanger 18 Porter
Toxic Tangerine Safety 3rd IPA
Beer paddles will be available until we close or run out! The full Pub line of beers & drinks will also be available. Remember that the Craft Beers will change every Friday & Saturday.
Craft Beers Rundown for this

Friday, August 25th & Saturday, August 26th


Toxic Blonde - ABV 5.6 IBU 22. This beer is light and crisp, with a slight fruity flavor, mild hop and malt character, and light body.


Toxic Coconut Hanger 18 Porter - ABV 6.2 IBU 35. Hanger 18 Porter with delicious toasted coconut!


Toxic Tangerine Safety 3rd IPA - 10 oz. Pours only! ABV 11.4 IBU 100. Triple American IPA - Light orange in color, tropical fruit and citrus notes punch through the nose and flavor with generous X of galaxy, topaz, and simcoe hops linger on the palate.