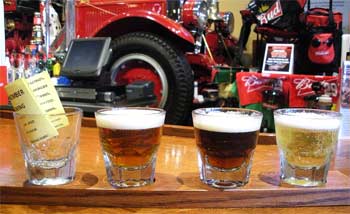 Craft Beer Sampling Paddles
What could be more fun than starting your weekend with tastings of revolving craft beers and potential new BBQ menu items? Company 7 Pitbossses enjoy a quality brew almost as much as they enjoy excellent BBQ. Working with our suppliers, each Friday & Saturday all day we will offer a tasting tray of high quality, Craft Beer products for only $4.49.
We will have brief backgrounds on each brew & will solicit your comments. You may also get glasses of any of the Craft Beers you prefer. If we find a winner, it may become a regular draft offering.
This Friday, October 20th & Saturday, October 21st all day we will feature:
New Holland TTE # 1 Lager
New Holland TTE # 3 Pale Ale
Pigskin Kickoff Brown Ale
Beer paddles will be available until we close or run out! The full Pub line of beers & drinks will also be available. Remember that the Craft Beers will change every Friday & Saturday.
Craft Beers Rundown for this

Friday, October 20th & Saturday, October 21st


New Holland TTE# 1 - ABV 5% IBU 30. An Experimental New Holland American Style Light Lager.


FigLeaf New Holland TTE# 3 - ABV 4.7% IBU 30. New Holland's American Style Pale Ale.


Mother Pigskin Brewery Kickoff Brown Ale - ABV 3.8% IBU 12. This is a great beer to kick off a great night or the big game. Its low ABV offers excellent drinkability while it finishes with full roasty malt flavor. Kickoff pours dark brown with mahogany highlights and an off white thin head with low retention. The Aroma is grainy, nutty, and toasty. It offers hints of chocolate and light roast as it warms. Fruit esters are present but not over powering. It boasts mostly a nutty malt character with a distinct toffee not mid tongue flavor. The finish is mostly dry, but has a slightly sweet malty note that lingers throughout the pint.