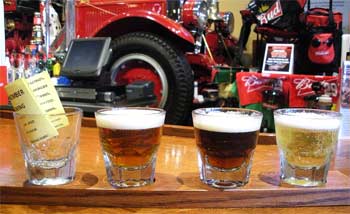 Craft Beer Sampling Paddles
What could be more fun than starting your weekend with tastings of revolving craft beers and potential new BBQ menu items? Company 7 Pitbossses enjoy a quality brew almost as much as they enjoy excellent BBQ. Working with our suppliers, each Friday & Saturday all day we will offer a tasting tray of high quality, Craft Beer products for only $4.49.
We will have brief backgrounds on each brew & will solicit your comments. You may also get glasses of any of the Craft Beers you prefer. If we find a winner, it may become a regular draft offering.
This Friday, June 30th & Saturday July 1st all day we will feature:
RiverTown Nice Mellons Berliner
RiverTown Roebling Imperial Porter
Yellow Springs Noodle Burner IPA
Beer paddles will be available until we close or run out! The full Pub line of beers & drinks will also be available. Remember that the Craft Beers will change every Friday & Saturday.
Craft Beers Rundown for this

Friday, June 30th & Saturday, July 1st


RiverTown Nice Melons - ABV 3.8% IBU 10. Smooth. Succulent. Satisfying. Soured. Nice Melons was crafted to bring pleasure to the mouths of the drinkers looking for that puckering pop on a sultry day. Pouring brilliant citrine with an unmistakable candied watermelon nose, this Berliner Style blends sweet and tart into one unmistakable mouthful. And, just like a set of nice melons, will make your mouth water.


Rivertown Roebling Imperial Porter - ABV 7.9% IBU 35. Roebling Imperial Porter brings together Cincinnati coffee, Ugandan vanilla beans and raw, organic turbinado sugar into a big, rich, chocolate, espresso infused brownie of a beer that is as innovative as its namesake. Rivertown was asked to craft a beer for a community festival in 2011 which celebrated the 145th Birthday of the John A. Roebling Suspension Bridge linking Cincinnati, OH and Covington, KY. This Imperial Porter is inventive, unique, well balanced, strong, and has been created to be as timeless and remarkable as the Roebling Bridge, the man who dreamed big and the community that brought that dream to life.


Yellow Springs Noodle Burner - ABV 7% IBU 70. A North Eastern Style IPA that is best enjoyed as fresh as you can get it. This IPA pours hazy from copious amounts of hops and a yeast strain that pushes fruity esters to the maximum. Low bitterness and a soft mouth-feel combine to create a super juicy unfiltered IPA experience. As fresh as it gets!