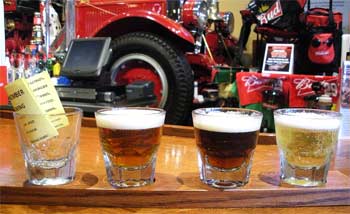 Craft Beer Sampling Paddles
What could be more fun than starting your weekend with tastings of revolving craft beers and potential new BBQ menu items? Company 7 Pitbossses enjoy a quality brew almost as much as they enjoy excellent BBQ. Working with our suppliers, each Friday & Saturday all day we will offer a tasting tray of high quality, Craft Beer products for only $4.49.
We will have brief backgrounds on each brew & will solicit your comments. You may also get glasses of any of the Craft Beers you prefer. If we find a winner, it may become a regular draft offering.
This Friday, May 26th & Saturday May 27th all day we will feature:
Coronado Guava Islander IPA
Flying Dog Tropical IPA
Hi-Wire Encjanter Baltic Porter
Beer paddles will be available until we close or run out! The full Pub line of beers & drinks will also be available. Remember that the Craft Beers will change every Friday & Saturday.
Craft Beers Rundown for this

Friday, May 26th & Saturday, May 27th


Coronado Guava Islander IPA - ABV: 7.0% IBU 65. Tropical fruit meets tropical vibes in this "guavacated" version of our Islander IPA. Brewed with the classic West Coast combo of Centennial, Chinook and Columbus hops, this beer gets the tropical treatment with a hefty dose of fresh guava puree. The result is a surprisingly smooth, unfiltered IPA bursting with tropical goodness that's sure to put you in that island state of mind.


Flying Dog Tropical - ABV 8% IBU 55. Pineapple and mango dominate with subtle passionfruit and sticky sweet, yet crisply bitter, hop notes.


Toxic Hi-Wire Enchanter Baltic Porter - ABV 8% IBU 30. Historically brewed to withstand shipment across the North Sea, Baltic porters have a long tradition of being big, chewy beers. Enchanter draws from these roots by blending an abundance of dark malts with tannic dryness imparted by American White Oak. This robust porter was lagered for 8 weeks.