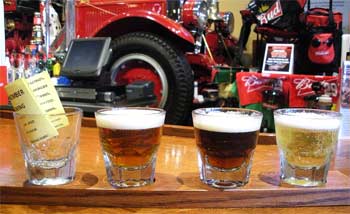 Craft Beer Sampling Paddles
What could be more fun than starting your weekend with tastings of revolving craft beers and potential new BBQ menu items? Company 7 Pitbossses enjoy a quality brew almost as much as they enjoy excellent BBQ. Working with our suppliers, each Friday & Saturday all day we will offer a tasting tray of high quality, Craft Beer products for only $4.49.
We will have brief backgrounds on each brew & will solicit your comments. You may also get glasses of any of the Craft Beers you prefer. If we find a winner, it may become a regular draft offering.
This Friday, December 22nd & Saturday, December 23rd all day we will feature:
Avery Reel Peel IPA
Bell's Christmas Scotch Ale
Clown Shoes Ohio Unidragon Stout
Beer paddles will be available until we close or run out! The full Pub line of beers & drinks will also be available. Remember that the Craft Beers will change every Friday & Saturday.
Craft Beers Rundown for this

Friday, December 22nd & Saturday, December 23rd


Avery Reel Peel IPA - ABV 6.3% IBU 60. Inspired by a summer's day and crafted to crush year-round, our IPA twists real tangerine peel and citrusy hops into this juicy experience. It's the real deal!


Bells Christmas Ale - ABV 7.5% IBU 25. This traditional Scotch Ale is rich and malty with notes of caramel and a warm finish. Certain to make any occasion festive, or at least a bit more bearable. Enjoy with the company of friends and family.


Clown Shoes OHIO UNIDRAGON - served in 10 oz. pours - ABV 11.5% IBU 15. Low Dear Ohio: the law prevents us from shipping Blaecorn Unidragon into your state, so we decided to make Ohio Unidragon, an alcohol 11.5% by volume stout dry hopped with American hops. The label reflects things that we love about Ohio through the images of an enraged Unidragon, a burning river, and giant skeletons wearing football helmets wielding electric guitars.