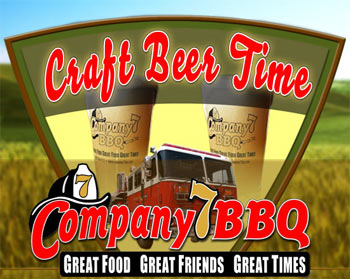 Craft Beer Sampling All Day
What could be more fun than starting your weekend with tastings of revolving Craft Beers. Company 7 Pitbosses enjoy a quality Brew almost as much as they enjoy excellent BBQ. Working with our suppliers, each Friday & Saturday all day we will offer a tasting tray of High Quality Craft Beer products for only $4.49. We will have brief backgrounds on each Brew and will solicit your comments. You may also get glasses of any of the Craft Beers you prefer. If we find a winner, it may become a regular draft offering.
This week Friday, May, 26th & Saturday, May, 27th all day we will feature:
Coronado Guava Islander IPA

Flying Dog Tropical IPA

Hi-Wire Enchanter Baltic Porter

BBQ Tasting With The Pitboss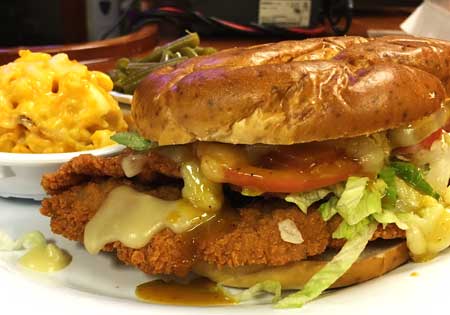 Company 7 recipes have always been taste tested around the family home BBQ Smoker. Patrick, our Company 7 Pitboss, experiments with special recipes (WOW are they good). The tastings are so fun that we want to invite all of you to join.
This Friday and Saturday all day, our Pitbosses will be previewing new recipe ideas & hanging around the "Smoker" talking BBQ with the best customers in the world. Ours!!!
Just as the Craft Beer taste items change our "Pitboss Tasting Specials" will change. This Friday, May 26th & Saturday, May 27th join us after 6pm for our Company 7 BBQ Smoked "Texas T" Tenderloin. Our Texas T is a True Midwestern tradition at the many fairs and festivals. Our Texas Tenderloin Sandwich is a premium Pork Tenderloin pounded out to make a large thin patty, breaded and then fried. Served on one of our soft Pretzel rolls with shredded lettuce, tomato, cheddar cheese and topped with Turkey Gravy. Goes great with Company 7 Captian Carolina sauce or add any of your favorite! Served as an Entrée with two Sides.
See Menu Gallery for Entrées, Sides & Desserts.
We will go as long as we have a crowd or until the special items run out. If weather is bad, we can cook outside and eat inside. If we identify crowd favorites you may well see the recipes on the regular menu.