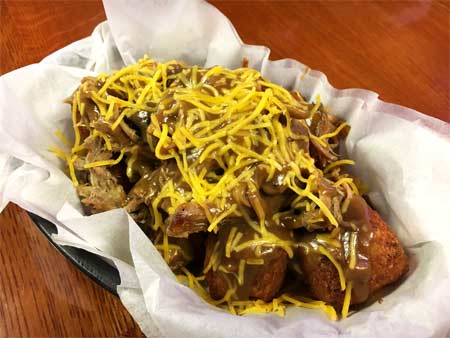 Company 7 recipes have always been taste tested around the family home BBQ smoker. Our Patrick is experimenting with a potential tenderloin special (WOW, was it good). The tastings were so much fun, that we want to invite all of you to join the fun.
This Friday & Saturday after 6pm, our Pitbosses will be previewing new recipe ideas & hanging around the smoker talking BBQ with the best customers in the world......OURS! The new recipe ideas "Pitboss Tasting" will pair nicely with the Beer paddle taste sampler also on Fridays & Saturdays.
Just as the Craft Beer taste items change our "Pitboss Tasting Specials" will change. Friday, December 22nd & Saturday, December 23 join us after 6pm for our Company 7 BBQ Pitmaster's Poutine. A Company 7 BBQ version of the popular Canadian late-night snack. Start with a basket of Jumbo Tater Tots stuffed with Cheddar Cheese, Bacon and Chives. Add your choice of Pulled Pork or Sliced Brisket, topped and finished with shredded Cheddar Cheese and our brown brisket gravy. The perfect appetizer for sharing with your friends.

Check out our Menu Gallery to see our wide selection of Entrées, Sides and Desserts to choose from to complimant your evening.
We will go as long as we have a crowd or until the special items run out. If weather is bad, we can cook outside and eat inside. If we identify crowd favorites you may well see the recipes on the regular menu.